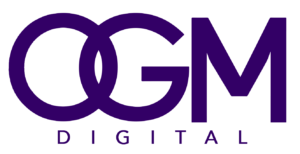 Founded in 2017 by Derek R. Halpern,  OGM Digital, LLC. is a marketing agency with a 100% focus on Google & it's powerful advertising platform. We specialize in Google lead services (web & phone based), SEO, Google Ads, Remarketing, Google Shopping, Google Maps & more. We also offer WordPress web design & extensive wholesale & white labeling services.
Our Backstory
John Wanamaker (1838-1922), department-store magnate, famously once said, "Half the money I spend on advertising is wasted; the trouble is, I don't know which half."
John Wanamaker's quote brilliantly sums up the limits of traditional marketing. Before the internet, much of advertising was mostly complete guesswork & too often extremely wasteful. But with the proliferation of the internet & later the birth of search engines, a new, amazingly efficient way of connecting businesses with consumers emerged. Thanks to Larry Page & Sergey Brin (Google's founders), Google's search engine burst onto the scene and it wasn't long before it took over the market. Google's innovation was an algorithm that was able to govern search results much more accurately than other engines at the time, which in turn revolutionized the world.
Why Google?
Google's ability to display accurate search results and advertisements (compared to its competitors) is the main reason advertisers and people use it so much. It is also accounts for why in 2017 Google had approximately 87% of the Search Engine Market Share Worldwide. Over 1 trillion searches per year, or about 40 thousand searches per second!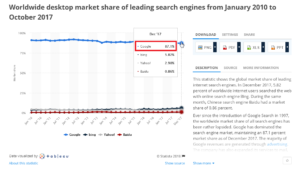 Working with Small Businesses
OGM Digital LLC's commitment is firmly rooted in helping businesses and entrepreneurs succeed. We understand that small & mid size businesses are the backbone of the economy; when they thrive, communities are stronger, people are happier & standards of living improve for everybody.
Did you know?
1. More than half of all Americans either own or are employed by a small business. The U.S. Small Business Administration (SBA) reports that more than 50% of Americans either own or work for a small business.
2. Small businesses are a critical foundation of the economy & play an essential role in the well being of a nation. According to the SBA, small businesses create about 2 out of 3 new jobs in the U.S. each year. Having generated over 65% of new jobs since 1995.
3. Survival rates on the rise. The one-year survival rate for businesses hit about 80% in 2017 – the highest share since 2006. About half of all establishments survive five years or longer, and only one-third survive 10 years or more.
What makes Google's Platform so Effective?
When correctly setup & managed, Google's advertising platform creates high levels of efficiency in the market; rapidly connecting businesses with customers while removing the guesswork & waste of traditional advertising.
As an example, if somebody is looking for a dental implant and lives in Manhattan, they might type "Dentist near me" or "Dental implants New York City"  on a Google search. The page 1 search results (as seen in the image below) will instantly display a range of suitable options including local dentists, practices, clinics & more. The user will see text based Google AdWords at the top of the page, local business listings with reviews in the Maps section & organic website and business listings further below.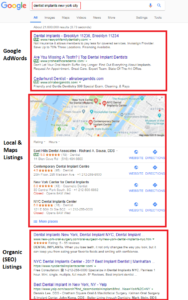 Our Approach
Unlike most marketing and advertising, our approach is scientific and data driven.
We have the ability to track every single dollar spent of a Google campaign & understand specifically which of those dollars led to success (email & phone conversion tracking). This is the basis of how we optimize campaigns, driving as many leads to your business at the lowest cost possible.
Our Values
We pride ourselves on driving high marketing returns, delivering world class standards of customer service & providing quality unbiased consulting on every project.
With a range of potentially suitable options that a business can utilize through the Google Marketing Platform, we will always carefully vet the most profitable strategies alongside you.

In June 2018, Google rolled out the next generation of AdWords, now called Google Ads & and consolidated its other advertising products into the Google Marketing Platform. Google's robust portfolio of advertising vehicles continues to provide industry leading solutions for any across all businesses & sectors.
Advertising Vehicles Include:
Google Ads (AdWords) – Show ads on Google exclusively to people who are searching for your products or services. Only pay when they click to your website or call you.
Google's Display Network (Banner advertising) – The Google Display Network can help you reach people while they're browsing their favorite websites, showing a friend a YouTube video, checking their Gmail account, or using mobile devices and apps. (Banner advertising on Google & Google Search partner websites).
Google Remarketing – Show ads to people who've visited your website or used your mobile app. When people leave your website without buying anything, for example, remarketing helps you reconnect with them by showing relevant ads across their different devices.
Google Shopping & Ecommerce – For retail stores, you can feature your products & sell online using Google shopping campaigns. Connect with more potential buyers & qualified leads, increase quality traffic to your website & drive sales.
Google Maps & Google Business Listings – Advertising on Google Maps is a powerful way to attract nearby customers. If you run a local business, ads on Maps make it easy for people to get to your location.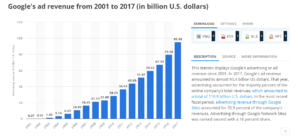 Google's Macroeconomic outlook looks Strong
As seen in the chart above, Google's ad revenue continues to grow year after year, hitting $95 billion USD in 2017 – The majority percent of the company's total revenue ($109 billion).
Google's success can be summarized in a few points:
Google users can easily find what they are looking for. No irrelevant spammy ads, accurate search results & options. Users keep coming back.

Businesses & Advertisers

 receive healthy returns & growth from their Google marketing investments.
Google as a firm benefits as its user base, revenue, & market share continue to grow (Happy shareholders as well)
From large international brands down to local mom and pop stores, businesses advertise on Google to drive high returns on marketing & augment company growth. With the unparalleled reach and size of it's userbase, Google is the ideal search engine for most businesses to focus on.  Simply put, the vast amount of people everywhere on earth use Google when they are looking for products or services on the internet. As the internet & digital economy continue to expand, it is important to ensure your business is capitalizing on this.
Contact us today
Please don't hesitate to get in touch with our friendly staff today if your have any questions!