Cryptocurrency Accepted
OGM Digital, LLC is a cryptocurrency friendly business accepting payments from a limited number of currencies: Bitcoin, Litecoin & Digibyte. If you pay with Bitcoin, Litecoin or Digibyte for any services, you will be eligible for discounts up to 25%

Pay with Digibyte: Founded in 2013 by Jared Tate, Digibyte (ticker $DGB) can be thought of as the Silver to Bitcoin's Gold. Built on the same core technology called a UTXO Blockchain, DigiByte is our #1 recommended form of Cryptocurrency. Similar to Bitcoin, Digibyte is a large worldwide decentralized payment network which allows people to safely move money over the internet without the need of a financial intermediary (3rd party).  Unlike traditional merchant service companies such as PayPal or Western Union, sending money with Digibyte only takes a few seconds, requires no sign up, registration or fees.
Digibyte coins are truly scare digital assets (finite supply) that cannot be destroyed, counterfeited or hacked; making them ideal for protecting objects of value like currency, information, property or digital data.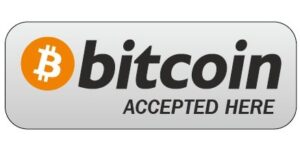 Pay with Bitcoin: The original pioneer of UTXO Blockchain technology, Bitcoin (ticker $BTC) is a distributed, worldwide, decentralized digital money; a form of electronic cash. Like Gold, there is also only a finite amount of Bitcoin that will ever exist. Bitcoins are issued and managed without any central authority whatsoever: there is no government, company, or bank in charge of Bitcoin. It is a currency that can be sent from user-to-user on the peer-to-peer bitcoin network, which is an immutable public ledger distributed across thousands of computers worldwide.
Pay with Litecoin: Litecoin (ticker $LTC), was an early bitcoin spinoff starting in October 2011, and remains along with $DGB & $BTC as one of the only true decentralized organizations (DAO) in existence. Similar to Bitcoin & Digibyte, Litecoin is an open-source worldwide payment network that facilitates peer-to-peer exchanges with no need for a 3rd party intermediary. Creation and transfer of coins is based on a public cryptographic protocol and is not managed by any central authority. Sending money anywhere across the globe with Litecoin is quick, extremely cheap & safe.
For more information on what we have to offer, please visit our Services page for complete pricing, deliverable's & campaign options.